Kyiv European Capital of Christmas 2023
Kyiv elected European Christmas Capital 2023 for its example of solidarity, humanitarian values and defense of its culture. Kyiv joins the municipalities of San Sebastian, Genoa, Liège, Valkenbourgh, Majadahonda, Medina de Rioseco and Torrejón de Ardoz that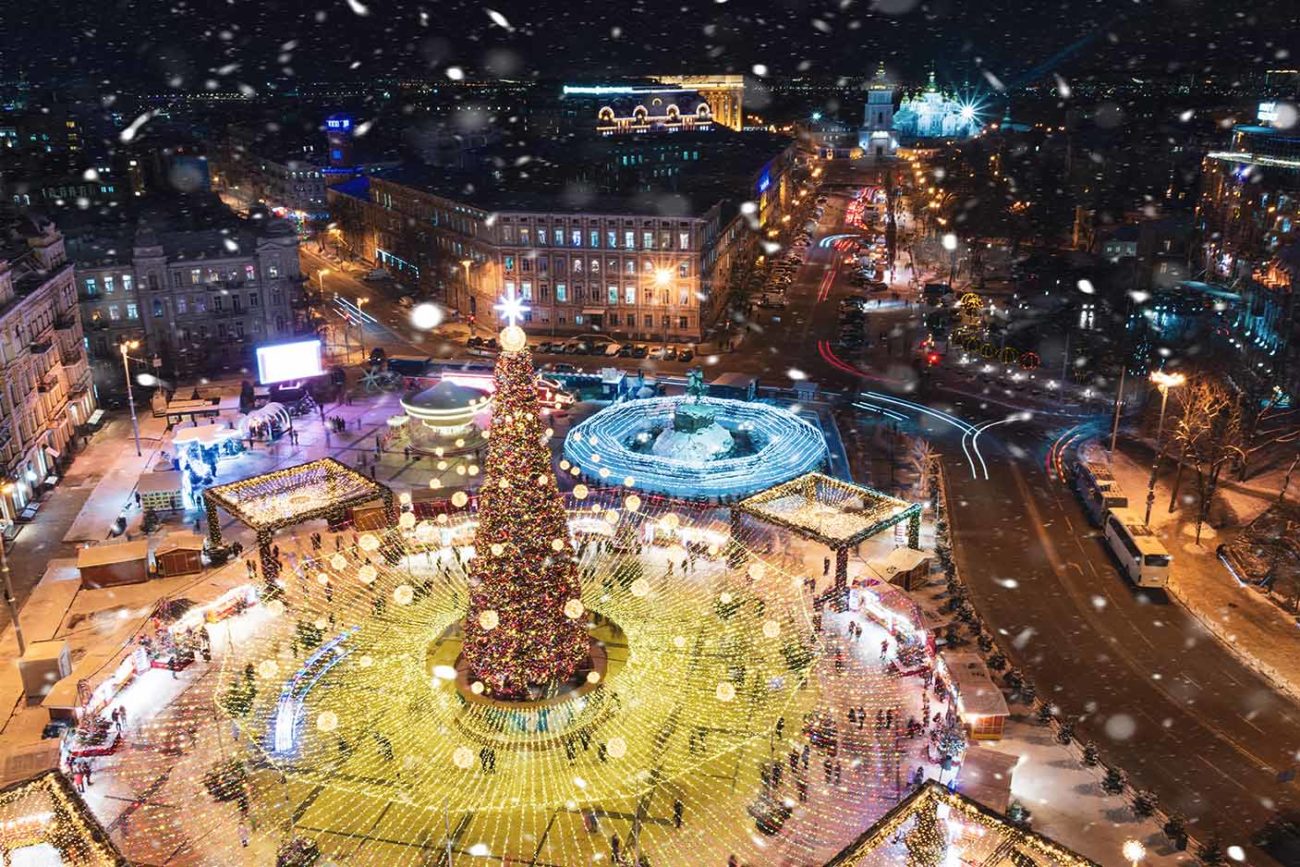 Kyiv elected European Christmas Capital 2023 for its example of solidarity, humanitarian values and defense of its culture.
Kyiv joins the municipalities of San Sebastian, Genoa, Liège, Valkenbourgh, Majadahonda, Medina de Rioseco and Torrejón de Ardoz that received it in previous editions.
The award ceremony is sponsored by the European Parliament.
The jury meeting in Madrid this morning, has decided:
Attendees:
– Mr. José María Gil Robles – President of the European Parliament (1997 to 1999).
– Mr. Henning Wegener – Ambassador of the Federal Republic of Germany.
– Mr. Joaquim Orlando Massena – Urban Architect.
– Mr. Alberto Gutiérrez Alberca – President Christmas Cities Network.
– Mrs. Mercedes Guillamón Duch – Cultural Producer and Actress.
– Mr. Miguel Plaza Nieto – Tourism Marketing Expert.
President:
Acting as President of the International Jury is Mr. José María Gil Robles all in accordance with the provisions of the Bases of the Call for 2023.
Having heard the reports and the deliberations, the following resolution was unanimously adopted
AGREEMENT
To grant in an extraordinary way the title of EUROPEAN CAPITAL OF CHRISTMAS 2023 TO THE CITY OF KYIV in representation of the Ukrainian people in accordance with the following criteria:
First. For its heroic defense of the humanitarian values that embody the best tradition of the West, demonstrating throughout so many days of suffering a collective state of mind full of generosity, solid mutual aid and determination in the defense of its culture and tradition.
Second. For their steadfastness and suffering in these days of Christmas celebrations where all the great hardships due to the lack of food, of comfort in the homes, of assistance for the sick are joined by the immense pain of separation from loved ones aggravated by the impossibility of communicating, of being able to receive the voice and words of comfort between parents and children, siblings and friends and what is worse in many cases living with the anguish of not even knowing their whereabouts.
Third. It is agreed to expressly congratulate the municipality of Kyiv on behalf of all Ukrainian municipalities in the figure of its mayor.
Fourth. The Jury bets and shows its hope that the Ukrainian people and the city of Kyiv can celebrate Christmas in the year 2023 in peace.
Fifth. The Jury agrees in its last point to declare the contest EUROPEAN CAPITAL AND CITY OF CHRISTMAS 2024.
The President of the Jury and President of the European Parliament (1997-1999) José Mª Gil Robles stressed «that this year the award not only serves to celebrate Christmas but to encourage Ukrainians in their defense of a common space of trust based on European values that can restore peace and joy».
The Jury agreed to address the winning cities in previous editions to organize activities in support of the Ukrainian people and the municipality of Kyiv during the year 2023 and especially next Christmas.