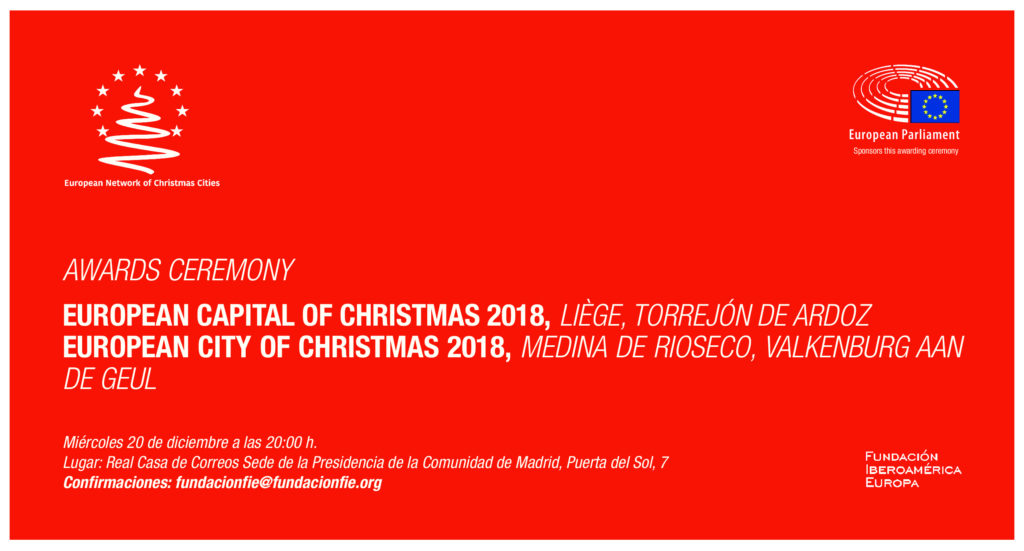 LIEGE, TORREJÓN DE ARDOZ, MEDINA DE RIOSECO AND VALKENBURG
CAPITALS AND EUROPEAN CHRISTMAS CITIES FOR 2018
The international jury for the "Capital and European City of Christmas" contest, which gathered in Madrid at the IberoAmérica Europa Foundation headquarters, has unanimously declared the municipalities of LIEGE (BELGIUM) AND TORREJÓN DE ARDOZ (SPAIN) as EUROPEAN CAPITAL OF CHRISTMAS, and has declared the municipalities of MEDINA DE RIOSECO (Spain) and VALKENBURG (Holland) as EUROPEAN CHRISTMAS CITIES.
This international jury — chaired by the former European Parliament President, José María Gil Robles (Spain), and comprised of Ambassador Henning Wegener (Germany), Joaquim Orlando Massena (Portugal) and Mercedes Guillamón (Spain), attended by the committee chairman and event organizer, Spanish senator Alberto Gutiérrez Alberca, and the IberoAmérica Europa Foundation President, Pablo Marcial Izquierdo Juárez — highlighted the technical level of the projects presented, their proposals, and the commitment of these cities to the values of Europe and Christmas.
Christmas is a special time of year in Europe where values such as integration, tolerance, coexistence and peace, all of which lie at the heart of the European Union, are revealed. To promote a distinction for "European Christmas Cities" is to promote peace, coexistence, harmony, a strong feeling of integration, and knowledge of European values among its citizens.
The creation of the "City and European Capital of Christmas" is an initiative of the IberoAmérica Europa Foundation. This is a private cultural foundation with international scope that has been promoting political, economic, social and cultural integration in Europe, Ibero-America and many countries and regions in the world for 37 years, and which awarding ceremony has received the recognition and High Patronage of the European Parliament. This sponsorship was granted last June by the European Parliament President, Antonio Tajani.
In its first edition, the call for projects began on 1 September and ended on 15 November. The award ceremony will take place on 20 December at 8:00 pm, at the emblematic Puerta del Sol in Madrid, where the regional government headquarters of the Community of Madrid is located.